Public Enemies Columbus Merchandise
WWW.PublicEnemiesColumbus.Com
I've decided it's time to up the price of one of my thoughts to two pennies now that a new-look penny is coming out. That's right, starting in 2009 there will be a series of four new pennies.
WHY!?
It costs more the 1 cent to make a penny. I don't even know why we have them. There has been a movement to get rid of the penny and round everything to the nearest nickle. This causes concern to some but probably the same concern in 1857 when we got rid of the half-cent.
In Europe, US military bases got rid of the penny in the 1980's and people complained for a few months but that was about it. Let's dump the penny so I can stop bending over to pick them up.
NEW LOOK PENNY'S - collect them all

BTW - you know you are getting old when you bend over to pick up a penny and look around for anything else you can pick up while you are down there.
===========================
Pizza and Beer!!

A little un-bottled Depp-elicious Double Chocolate Stout and Pizza. Even though it's a Brick Oven Tombstone I always trick it out with extra ingredients. Five gallons exactly of brew EXACTLY!!.
==========================================
This is a Banded Garden Spider (Argiope trifasciata) that surprised the bejeesus out of me when I was doing a little pruning. Pretty harmless actually to humans.
You can get bitten but it would be more like a mosquito bite. One of their biggest worries for Mr. Spider are wasps which will kill it. These guys are good for your garden.
==========================
This is a large cement cutout of Lake Tahoe with a few facts and figures. The Average depth is 1000 feet with max depth 1645 (Lake Mendota in Madison has a max depth of 83 feet). It holds 39 trillion gallons of water. The residence time (how long it takes to completely exchange water in a lake) is 700 years, compared to Lake Mendota which is 4.5 years.
Lake Superior depth has a max depth of 1332 and 191 years to exchange the water.
This is from our deck looking down at Kings Beach and Incline Village. It's pretty dark out with a full moon lighting the water.
And the last vaca photo for the day is a random unknown bird.
====================================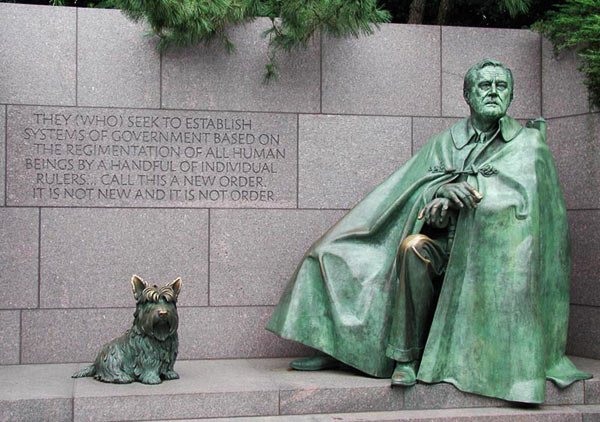 On this day in 1944 President Roosevelt defended his dog Fala against the Republicans.
It seems there was a story claiming that Roosevelt had accidentally left Fala behind while visiting the Aleutian Islands earlier that year. They went on to accuse the president of sending a Navy destroyer, at a taxpayer expense of up to $20 million, to go back and pick up the dog.
This was totally untrue and Roosevelt went on to say that the desperate Republican opposition knew it could not win the upcoming presidential election and used Fala as an excuse to attack the president.
There is actually The Fala Speech given by Roosevelt
These Republican leaders have not been content with attacks on me, or my wife, or on my sons. No, not content with that, they now include my little dog, Fala. Well, of course, I don't resent attacks, and my family doesn't resent attacks — but Fala
does
resent them. You know, Fala is Scotch, and being a Scottie, as soon as he learned that the Republican fiction writers in Congress and out had concocted a story that I had left him behind on the Aleutian Islands and had sent a destroyer back to find him — at a cost to the taxpayers of two or three, or eight or 20 million dollars — his Scotch soul was furious. He has not been the same dog since! I am accustomed to hearing malicious falsehoods about myself — such as that old, worm-eaten chestnut that I have represented myself as indispensable. But I think I have a right to resent, to object to libelous statements about my dog.
Fala slept at the foot of his master's bed and only the president had the authority to feed him; the White House kitchen staff sent up a bone for Fala every morning with Roosevelt's breakfast tray.
After FDR's death, Fala lived with Eleanor and, when the dog died in 1952 at the ripe old age of 12, he was buried near the president at his family home in Hyde Park, New York.
=============================
Have a great day and hug your dog when you get home.