Public Enemies Photo blog
Gas up the snow blowers because we aren't even CLOSE to being done with snow for the next week! Yesterday afternoon I was looking at the upcoming week and as my eyes got wider I realized I better get out my calculator.
BEFORE Storm #1 I estimated that between Tuesday the 16th and Tuesday the 23rd we could get between 17 to 29 inches of snow!! YEA - that's right, 17 to 29.
Storm #1 dumped 4.5 inches on Columbus. Storm #2 hitting Thursday night is looking pretty wicked. Major icing near the State border and snow more north. Still they are saying 9 to 12 and that has been pretty constant. I'm looking at a 15 hour snow event. With 20mph winds.
THEN - Saturday night and Sunday there is a CHANCE for another 6-10 inches - YEE HAA!!!
Snow so far compared to 2007-8
----------------------------
A note to ms wonderland. Yea - I did notice the British were left out of all that. I'm thinking they might have said Allies instead of The U.S. If it's any consolation the forum I grabbed that from is having a rather heated debate about that very topic. I do have to say that the U.S. was the franchise player for the Allies though. :-)
-----------------------------------------
No news on the
Public Enemies
Trailer scene. Nothing to report on THAT topic. Sorry.
-----------------------------------------
Survivor
- I'm going to have to look for my Passport and see how old it is. I got my Passport the last time I applied for Survivor and it might be time to get a new one and I'm not sure I want to spend $75 for a new one JUST for this.
------------------------------------------
I know you all watch C-Span all the time right? Well - IN CASE you missed it, this is White House Week with lots of interesting shows about the logistics of running the White House. Last night they were preparing for a State Dinner and all that needs to be done. Then they had a piece about moving out the old and in with the new President.
The old President is moved out at noon on inauguration day and the new President is moved in. In 6 hours they have to completely move in, unpack and make the White House a home. They have to have EVERYTHING done so when the Obama's come "home" it is like they have lived there for years. The kitchen must be full of all their favorite food, the bedrooms are completely unpacked, no box's, the living room is completely comfortable with everything is in it's place including favorite magazines and toys in their perfect place.
I want to get those guys to move ME next time.
===================================
In 1969 an estimated 50 million viewers watched singer Tiny Tim marry Miss Vicky on NBC's "Tonight Show." And no that is what he looked like THEN!! I know I know - he's a babe magnet!
HEY - It's Giovanni and Marissa Ribisi birthdays, both are 34. They are twins.
===================================
Here is something you don't want to see.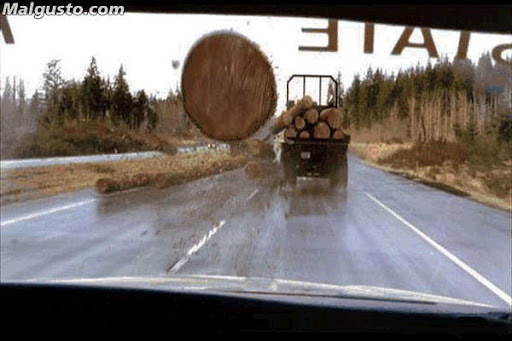 Remember that winter scene I took showing the mill and river? Many people fail to look behind them the mill seen is so pretty.
Here is the opposite side of that bridge many people miss.
And lastly I was looking at my old blog and found this screen shot from my poker days. Notice that I was playing 2 games at once AND on both tables I had quads!!! Ahhhh - the good old days of making REAL money!
Have a great day!
Rod